05/05/2020
LPG SERVICE
Waar haalt u de LPG voor uw vorkheftruck vandaan? Al enige tijd is het niet meer toegestaan om uw flessen zelf aan de pomp te vullen…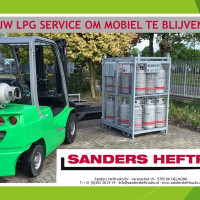 Maak daarom gebruik van onze LPG service:
Een probleemloze en veilige LPG (propaan) voorziening, zonder zorgen over keuring of onderhoud van de gasfles.
U levert uw lege tank in en neemt direct een volle tank weer mee. Voor dit wisselsysteem maken wij gebruik van moderne aluminium flessen met een leeg gewicht van slechts 7 kg.
Neem contact op voor de mogelijkheden of kom langs en profiteer meteen.