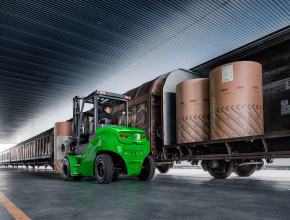 B800
Strong & quality heavy Duty 4-wheel counterbalanced forklifts
The CESAB B800 brings class leading manoeuvrability to high capacity materials handling applications - both indoors and out.
With a lift capacity of up to 8.5 tonnes the CESAB B800 range is ideal for heavy duty applications such as the manufacturing sector, building merchants and general construction, whilst its clean and quiet operation also makes it suitable for paper handling and the beverage industries.
CESAB's unique IMD (Intelligent Mast Design) mast technology provides industry leading levels of visibility and performance. This not only facilitates faster stacking and manoeuvring in tight spaces, it also helps to enhance safety and fewer damaged loads. Together these allow the CESAB B800 to deliver higher productivity levels in spaces usually restricted to a much smaller forklift.
The all-round superior performance of the CESAB B800 range is complemented by its superior build quality and reliability. So not only will you enjoy a productive materials handling operation, you'll also enjoy a profitable business.
Off
Specifications
| Model Code | B860 |
| --- | --- |
| Power Unit | Electric |
| Load Capacity (Q) | 6000 kg |
| Load Centre (c) | 600 mm |
| Lift Heights (h3) from | 3150 mm |
| Travel Speed with/without load | 18 / 20 km/h |
| Lifting Speed with/without load | 0,38 / 0,48 m/s |
| Turning Radius (Wa) | 3005 mm |
| Battery Voltage/Rated Capacity (5h) | 80V / 1120-1240Ah |
| Model Code | B870 |
| --- | --- |
| Power Unit | Electric |
| Load Capacity (Q) | 7000 kg |
| Load Centre (c) | 600 mm |
| Lift Heights (h3) from | 3150 mm |
| Travel Speed with/without load | 18 / 20 km/h |
| Lifting Speed with/without load | 0,36 / 0,48 m/s |
| Turning Radius (Wa) | 3005 mm |
| Battery Voltage/Rated Capacity (5h) | 80V / 1120-1240Ah |
| Model Code | B880 |
| --- | --- |
| Power Unit | Electric |
| Load Capacity (Q) | 8000 kg |
| Load Centre (c) | 600 mm |
| Travel Speed with/without load | 17 / 19 km/h |
| Lifting Speed with/without load | 0,32 / 0,42 m/s |
| Turning Radius (Wa) | 3005 mm |
| Battery Voltage/Rated Capacity (5h) | 80V / 1120-1240Ah |
| Model Code | B880H |
| --- | --- |
| Power Unit | Electric |
| Load Capacity (Q) | 8000 kg |
| Load Centre (c) | 900 mm |
| Travel Speed with/without load | 16 / 18 km/h |
| Lifting Speed with/without load | 0,32 / 0,42 m/s |
| Turning Radius (Wa) | 3111 mm |
| Battery Voltage/Rated Capacity (5h) | 80V / 1120-1240Ah |
| Model Code | B885 |
| --- | --- |
| Power Unit | Electric |
| Load Capacity (Q) | 8500 kg |
| Load Centre (c) | 600 mm |
| Lift Heights (h3) from | 3150 mm |
| Travel Speed with/without load | 13.5/16 km/h |
| Lifting Speed with/without load | 0.24/0.32 m/s |
| Turning Radius (Wa) | 3255 mm |
| Battery Voltage/Rated Capacity (5h) | 80V / 1050 Ah |
Related case study