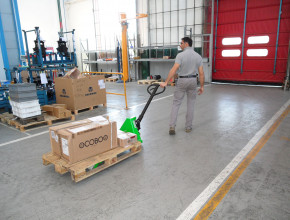 CE
Low lifting hand pallet trucks
Our entry material handling solution is the perfect tool for every-day use in all types of applications.
The low lifting range of CESAB Hand Pallet Trucks comes in a robust design and offers a capacity range of 2.0 to 3.0 ton. The different options available, allow the CESAB CE models to be adapted to the specific needs of every application.
Besides the different fork dimensions available, these different versions and configurations meet the demands of the market, such as a handbrake version that secures the truck for optimal safety when it's not in use. A quick-lift version reduces the number of tiller arm movements by 67% for faster and effortless goods handling. The models with 55 mm lowered fork height allow handling of crates and other special load units.
For use in particular environments like highly corrosive or hygienic areas, CESAB proposes the CE-ST version made in stainless steel.
Off
Specifications
| Model | CE200L |
| --- | --- |
| Rated Capacity | 2000 kg |
| Type | Low forks |
| Minimum Fork Height | 55 mm |
| Width over forks | 520/685 mm |
| Fork Length | 800 – 1220 mm |
| Model | CE230 | CE230U | CE230Q | CE230X |
| --- | --- | --- | --- | --- |
| Rated Capacity | 2300 kg | 2300 kg | 2300 kg | 2300 kg |
| Type | - | Low forks | Quick-lift | Handbrake |
| Minimum Fork Height | 85 mm | 75 mm | 85 mm | 85 mm |
| Width over forks | 370 – 1500 mm | 370 – 1500 mm | 370 – 1500 mm | 370 – 1500 mm |
| Fork Length | 600 – 3500 mm | 600 – 3500 mm | 600 – 3500 mm | 600 – 3500 mm |
| Model | CE300 |
| --- | --- |
| Rated Capacity | 3000 kg |
| Type | - |
| Minimum Fork Height | 85 mm |
| Width over forks | 520/685 mm |
| Fork Length | 900 – 1830 mm |
Related case study