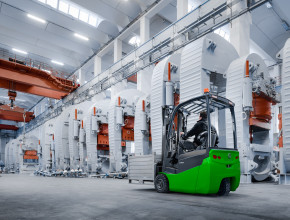 B200
Maximum performance, maximum safety, minimum dimensions
The powerful and compact 24V CESAB B200 is perfect for light to medium applications and offers maximum manoeuvrability even in restricted spaces.
CESAB B200 three-wheel forklifts are equipped as standard with ISD, CESAB's Intelligent Stability Design. This technology actively monitors the key parameters of the truck's performance to bring downtime to a minimum and productivity to a maximum.
ISD actively contributes to workplace safety with ten sensors, three actuators and one controller. This system allows ISD to monitor material handling operations and take corrective action, when necessary, to guarantee the stability of the truck and load.
The IMD (Intelligent Mast Design) mast technology provides industry leading levels of visibility. The low height of the dashboard, narrow profile of the overhead guard and the new, open-design fork carriages provide excellent forward visibility of the forks and load. No matter the position, operators have an unhindered view during load handling, with active safety features helping the operator to work more accurately at less risk to the surroundings or load.
The new cockpit offers even more legroom, with a new ORS seat that assures better side support when cornering.
The CESAB B200 comes with deck mounted mechanical levers as standard, with fingertip controls or mini joysticks mounted on a fully adjustable, ergonomic armrest available as options. Two different pedal arrangements are also available, a car-like one or double pedals. The car-like pedals allow the direction controls to be placed either on the left of the steering column or on the multi-function armrest, as an option.
The CESAB B200 3-wheel 24V series, with rear wheel drive, combine minimal size, optimal stability and exceptional performance, for excellence in materials handling.
Off
Specifications
| Model Code | B210-II |
| --- | --- |
| Power Unit | Electric |
| Load Capacity (Q) | 1000 kg |
| Load Centre (c) | 500 mm |
| Lift Heights (h3) from | 2970 mm |
| Travel Speed with/without load | 12/12.5 km/h |
| Lifting Speed with/without load | 0.32/0.52 m/s |
| Turning Radius (Wa) | 1229 mm |
| Battery Voltage/Rated Capacity (5h) | 24V / 400-500 Ah |
| Model Code | B213-II |
| --- | --- |
| Power Unit | Electric |
| Load Capacity (Q) | 1250 kg |
| Load Centre (c) | 500 mm |
| Lift Heights (h3) from | 2970 mm |
| Travel Speed with/without load | 12/12.5 km/h |
| Lifting Speed with/without load | 0.32/0.52 m/s |
| Turning Radius (Wa) | 1391 mm |
| Battery Voltage/Rated Capacity (5h) | 24V / 735-875 Ah |
| Model Code | B215-II |
| --- | --- |
| Power Unit | Electric |
| Load Capacity (Q) | 1500 kg |
| Load Centre (c) | 500 mm |
| Lift Heights (h3) from | 2970 mm |
| Travel Speed with/without load | 12/12.5 km/h |
| Lifting Speed with/without load | 0.31/0.52 m/s |
| Turning Radius (Wa) | 1420 mm |
| Battery Voltage/Rated Capacity (5h) | 24V / 735-875 Ah |
Related case study